Hydro Flask Review
Category: Kit Testing and Reviews
Posted by The Adventure Element
I am not the first person to have said they love their Hydro Flask mug or flask. For the outdoor enthusiast, they fit perfectly on to the 'must-have' pieces of kit for being outside.
They are:
Almost indestructible
Keep drinks hotter or colder, for longer
Soft touch, Non-slip coating
Non-splash lid
Have an impressive range of colours
---
Quality Build
Once you pick up a Hydro Flask you'll feel the build quality. Made using their TempShield technology, each of their products is double-walled and vacuum insulated. This means you can happily fill it with iced water on hot day and know that your drink will remain ice cold for up to 24 hours. We've tested this claim and it really does work! Though in the UK we are less likely to want iced water and more likely in need of a hot drink while out adventuring.
We like to fill our Hydro Flask with our favourite coffee (which is black and strong, if you ever make us one!) and it stays warm for up to 6 hours.

Do be careful though - The outer body of the mug stays cool whatever the heat of the fluid inside. Along with the plastic non-spill lid which also stays cool, it is hard to gauge how hot things are on the inside. We have nearly burnt our lips on a number of occasions. Just be warned!
---
Huge Range of Colours
If you have been in any outdoor shop recently it would be hard not to miss the Hydro Flask display shelf. The amazingly bright colours of their products jump out at you from anywhere in the shop and tempt you in. They look tactile and ask to be picked up and held! There are a refreshing array of bold colour schemes to suit your mood, wardrobe and fashion statement, made using their signature powder coating, offering slip-free durability.
Being a fan of the brighter colours, Ben opted for lime green. On reflection, this may have been a poor choice given the selection of green clothes he already owns!! (see photo). With the company colour being orange maybe he should have chosen more wisely?!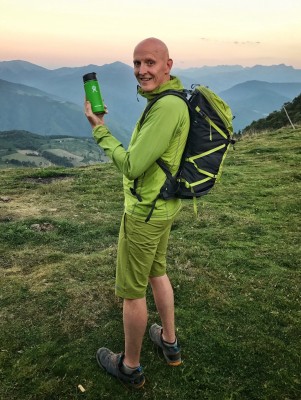 ---
Extensive Range
Out of the extensive Hydro Flask range we have been using their wide-mouthed coffee mug and take it everywhere. It has been on expedition with us around the world and it travels everywhere in the car. Its slim and neat design means it does not take up too much room. With their guarantee of no heat transfer to the outside of the of the bottle we are confident that our drink will stay warm for when we need that caffeine hit.
Their products certainly live up to their claim of 'Unexpected refreshment each and everytime'.
Hydro Flask also have a great customer care policy. When we stupidly lost the seal on one of our cups they replaced it free of charge without question. Brilliant service.
---
Summary
We've accumulated many travel mugs, water bottle and flasks. Over time they have all succumbed to the 'Mug and Flask Graveyard' at the back of the cupboard and now collect dust. Our Hydro Flask will certainly NOT be joining them any time soon!
The quality of build, the ability to keep our coffee hotter for longer is real selling feature meaning we will keep using this mug until........I don't know when......we just don't know when we'll be needing a new one?!

This is our 'go-to' travel mug now. All of the others will stay in the back of the cupboard.
#liverefreshed #youradventureinsafehands