Top 5 Avalanche Awareness and Avoidance tools which every winter mountain user should have.
Category: Advice & Guidance
Posted by The Adventure Element
Firstly, some statistics.
Avalanches are not just confined to the larger mountains of the Alps or Greater Ranges around the world as you see on the TV. In Scotland alone the total number of avalanche occurrences recorded for the winter of 2019/20 was 241!
Of this number, 27 were human triggered and some were significant and resulted in people being carried with the avalanche. Sadly in the 2019/20 season, there was 1 fatality caused by avalanches.
'HUMAN TRIGGERED' AVALANCHE OCCURRENCES DURING 2019/20 SEASON
27 avalanches involving people.
10 avalanches were control triggered by SAIS personnel/ski patrol/others during the avalanche hazard assessment process. Includes 1x artificial (explosive).
7 triggered avalanche involved persons on ski or snowboard.
19 triggered avalanche occurrences involved people on foot (walking or climbing).
15 people in total were carried down by avalanches.
Tragically, 1 fatality was recorded due to avalanche activity.
DO YOU KNOW THE 4 KEY FACTORS WHICH CAN INFLUENCE AVALANCHE RISK?
Weather
Monitoring changes in the weather including wind direction, temperature and precipitation leading up to and during your day out can help you assess what is happening in the snowpack and therefore assist you in evaluating risk levels. Your planning and assessing the weather should start from the warmth and comfort of your home and begin a couple of days before venturing into the winter mountains.
Terrain
It is possible to plan your day in the mountains to avoid certain terrain where avalanches could occur if needed.

Slope angle, the grounds surface, the direction the slope is facing, whether the slope is convex or concave can all influence a potential avalanche. This should be taken into account in your planning.
Snowpack
Even before leaving your car it is possible to assess what is happening in the snowpack. You don't have to be a scientist to see if there has been fresh accumulations of snow, drifting or a cornice build up which could increase avalanche risk.
Digging into the snowpack with your hands, axe or shovel can paint a more in-depth picture. Looking at and assessing the layers of the snow or the way these layers break apart or slide on each other can help you build your knowledge of avalanche risk.
You
We are all at potential risk. With 90% of victims triggering their own avalanche, do you have the right knowledge to travel as safely as possible? Make sure you and any group you are with have enough avalanche assessment techniques and first hand experience. Most importantly, ensure you all have the skill to use them to make a safe evaluation of the risks.
Heading out into the winter mountains with too much confidence can be as dangerous as heading out with no knowledge at all. Leave your hero's cape at home and don't take unnecessary risks. Having the 'this doesn't feel right' feeling, probably means it's not and you should consider a retreat and make another plan. Plans can always be changed so make sure you stay safe enough to come back another day.
---
OUR TOP 5 AVALANCHE AVOIDANCE TOOLS
We've put together our top 5 simple tools used to help us make a decisions in winter so we can STAY SAFER IN THE MOUNTAINS.
1. Mountain Weather Information Service (MWIS)
Click image to visit - Mountain Weather Information Service (MWIS)
A good weather forecast is imperative to begin your planning and should start a number of days before heading out. We are a huge fan of the MWIS forecast as they produce a forecast for mountain areas of the UK and they are easy to understand. We also use the Met Office forecasts to gain a broader picture of conditions.

There are many forecasts available and we would advise to check out a couple to get a full overview of what has been happening historically with the conditions, but also what is likely to happen on the day of your trip.
Things to check to help you plan your journey:
Wind directions and speed - This could indicate where accumulations of snow may have occured due to the snow being moved by the wind. Snow will be dumped by the wind on lee slopes.
Temperature - There are a number of variables to consider; If there has been a period of 'freeze / thaw' with no new accumulations, the snowpack may have consolidated and be more stable. If there has been a sudden rise in temperture, this could indicate the snowpack may be saturated and heavy and could become unstable. If the temperature has remained very cold and stable and there has been new snow, there is a possibility that the snow pack could be unstable.
Precipitation - Has there been any new snow and how much? It is considered that new accumulations of over 20cm or 2cm per hour will significantly increase the avalanche risk. Conversely, if there has been rain, especially at summit altitude, the snowpack may be saturated and heavy and cause the avalanche risk to increase.
TOP TIP - Write some of the key weather information on your map so you'll have it there as reference during your day out.
---
2. Scottish Avalanche Information Service (SAIS)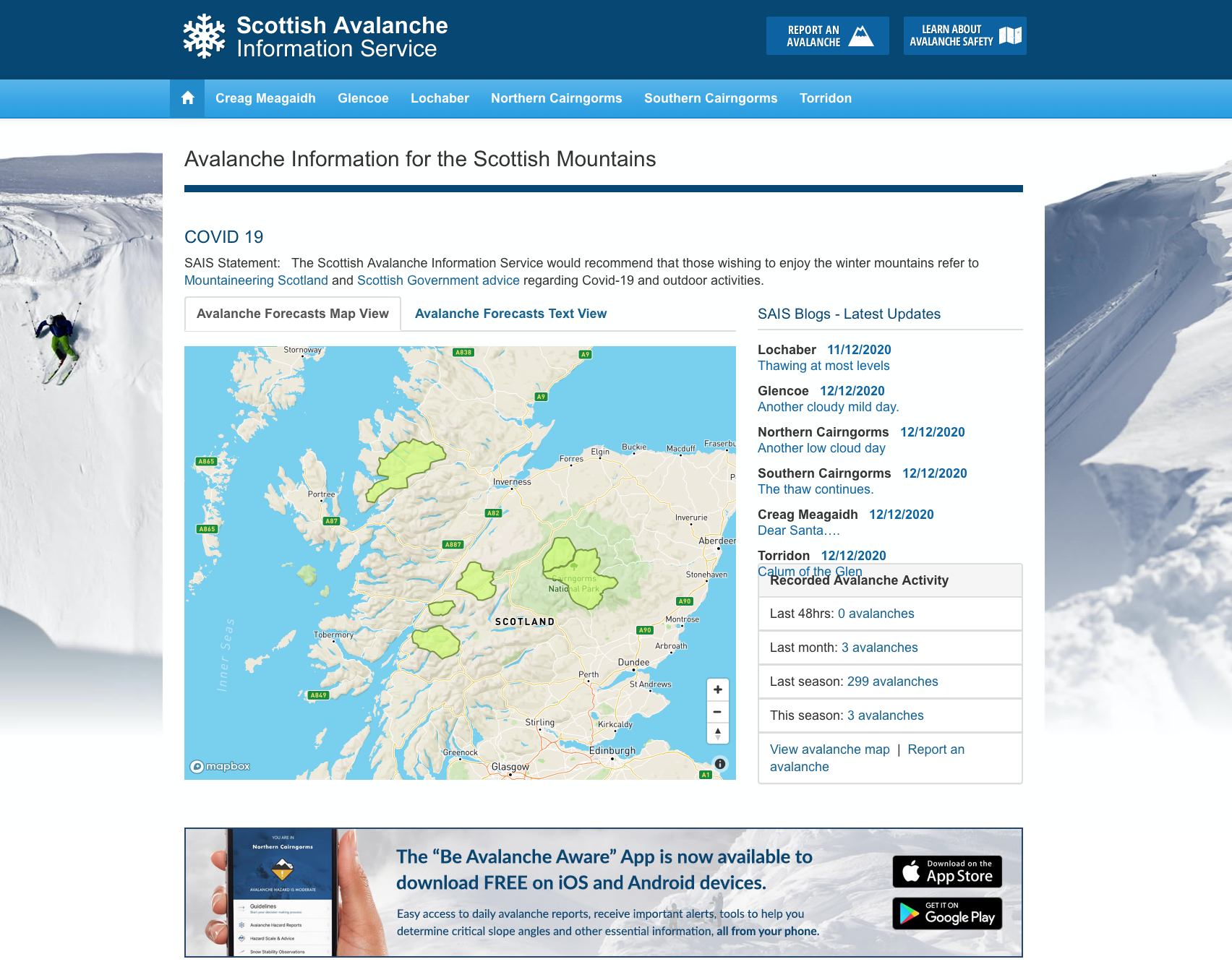 Click image to visit - SAIS
The Scottish Avalanche Information Service (SAIS) is an invaluable resource and tool for venturing out in the Scottish mountains. After looking through the weather forecasts, this is our next stop in planning a day out.

The information they provide can be analysed before leaving home to give an indication of conditions. It is also used during your day out to continually assess how conditions are developing.
The service provides daily information on the avalanche hazard reports and snowpack formation. As well as other vital information, they produce an easy to understand diagram of which slope aspects have accumulations and at what altitude the risk ldevel changes this enables you to plan a safer route away from the dangers.
TOP TIP - Take a phone screen shot of the avalanche 'Hazard Rose'. This means you don't have to remember which slopes are a higher risk or have to keep downloading and wasting battery life whilst on the hill.
Be Avalanche Aware (BAA) Is a a brilliant app worth downloading which brings together a variety of vital and useful tools to help the winter mountain user plan and carry out a safer journey.
Be Avalanche Aware (BAA) Click the link to access the app.
---
3. Slope Angle Tool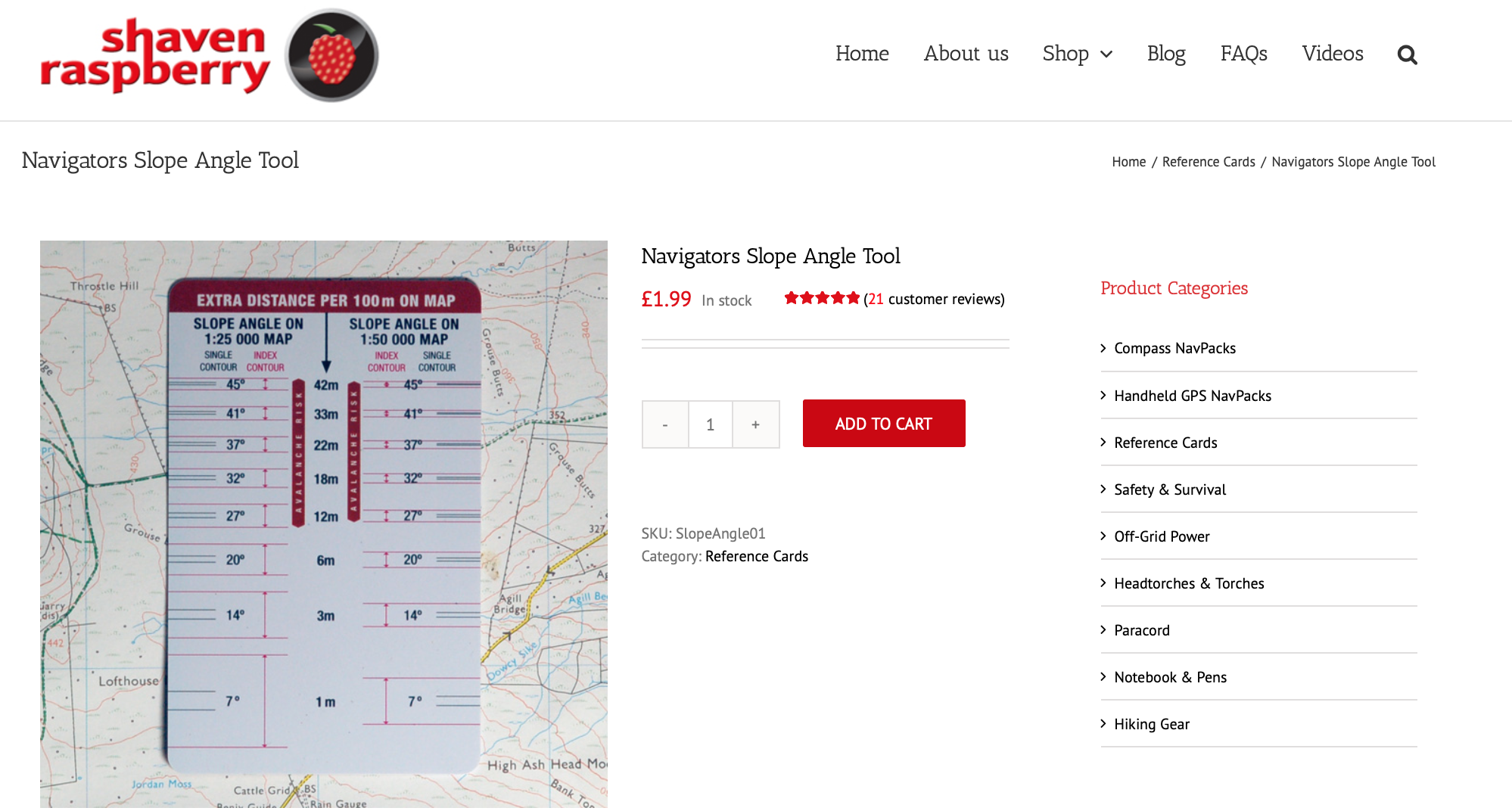 Click image to visit - www.shavenraspberry.com
Most avalanches occur between a slope angle of 30 - 45 degrees. The problem is, how do you know the angle of a slope before you walk on it or even while you're on it?

There a number of techniques using walking poles or an ice axe which could roughly give you the slope angle. However, this very handy little credit card sized tool will give you the knowledge you need to make a pretty accurate judgement.
Made from a durable hard plastic, this slope angle tool offers a scale for OS maps 1:25k and 1:50k, so handy which ever map you are using. Simply place the card against the contours on your map, line up the index contours and the card will show the slope angle. Easy! The tool can also help work out where you are on a slope, the extra distance you'll travel on a given slope angle and help to work out your height above sea level.
The best bit - It's only £1.99!
TOP TIP - We've made a small hole in ours, threaded it on some cord and added a small clip. This means it can be attached to your jacket, rucksack or compass so it can't get lost.
---
4. Slope Angel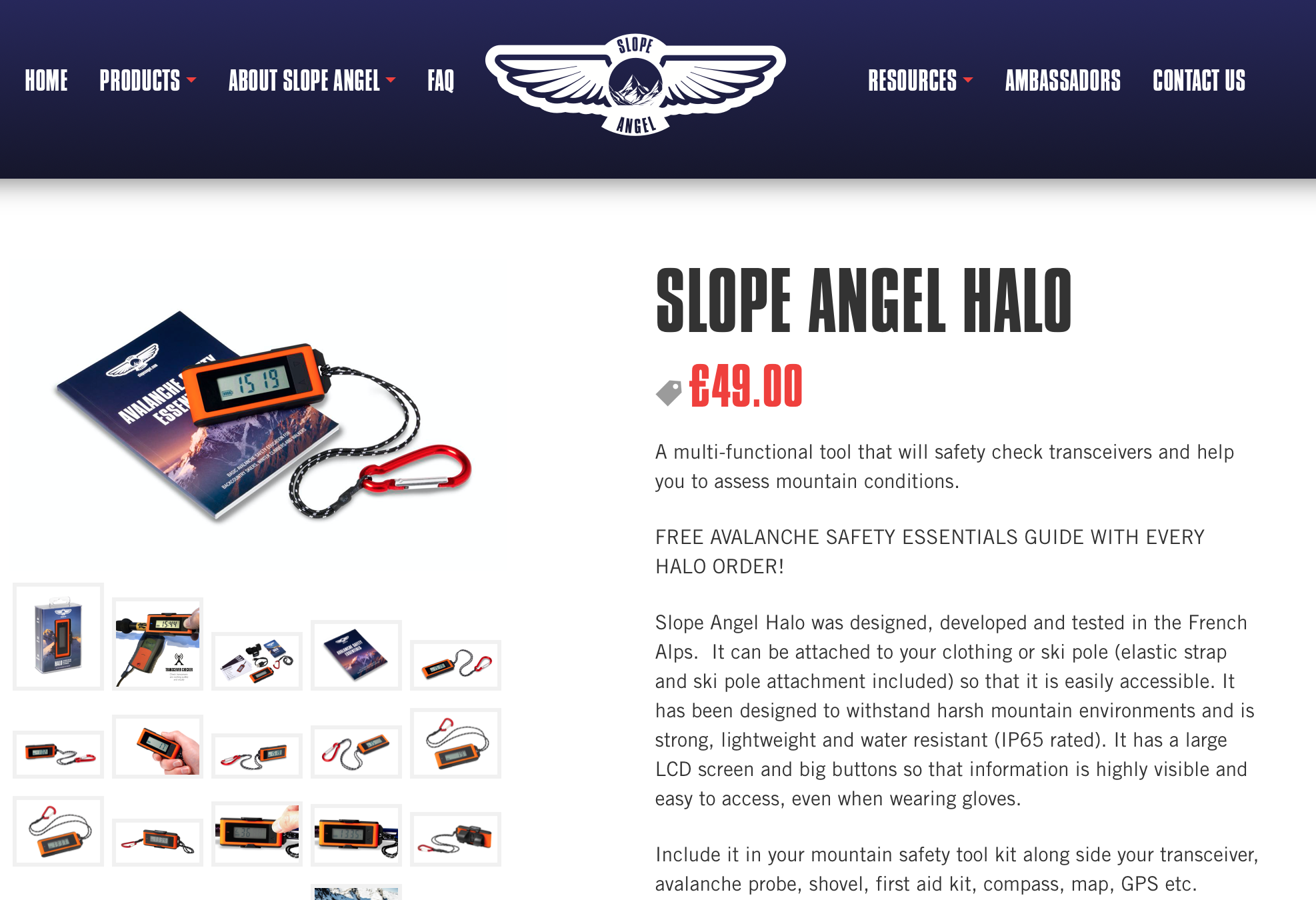 Click image to visit - Slope Angel
This may become our favourite tool ever!
The small, very compact and easy to use Slope Angel will give vital pieces of information to help assess avalanche risk:
Current air temperature
Slope angle
Altitude
It's built-in thermometer means you can monitor how the air temperature changes through out the day. Sudden increases in temperature can drastically change avalanche risk for the worse.
The in-built inclinometer will guage slope angle. Simply place a walking pole or axe down the 'fall line' of the slope, place the Slope Angel on top and the digital read out will instantly give the slope angle.
Advanced Model - Slope Angel HALO with additional features weighs in at 35g and costs £49.00
Basic Model - Slope Angel just £19.99
Our thoughts are this simple and effective device should be in every winter mountain users pocket.
---
5. Winter Skills Course
Click image to visit - Winter Skills Courses
Good instruction with first hand experience, and knowledge is the key to being able to STAY SAFER IN THE MOUNTAINS.

Being safe in the winter mountains requires a series of jigsaw pieces to be placed together to create a picture. Judgements are made constantly to ensure your day out is safe and enjoyable.
All of the tools we've mentioned above are brilliant in helping you to stay safe. However, with out the knowledge of how to use them effectively or in conjunction with each other, they are useless.
Joining a Winter skills course will help to build confidence, cement the knowledge you may already have and grow new skills. Along with topics like the use of crampons and ice axes, you'll also learn safe travel techniques, route choices, interpreting weather forecasts and assessing avalanche risk.
A 2-day course is as cheap as £175. After a Winter Skills Courses you'll be brimming with new ideas, confidence and knowledge.